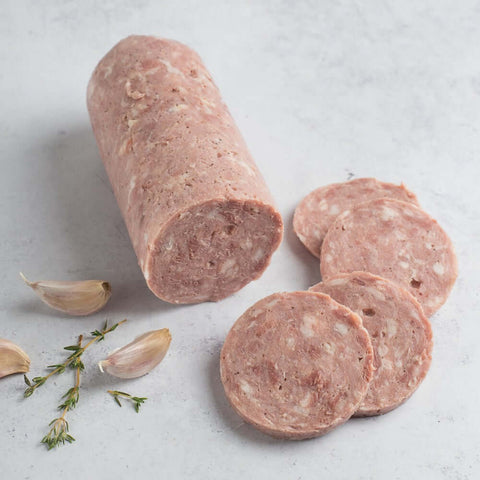 French Garlic Sausage
Simply thaw overnight and use. Simply slice or dice the garlic sausage and add it to your favorite recipes: salads, sandwiches, entrees, soups, potato dishes and of course, cassoulet.
French Garlic sausage , also know as saucisson à l'ail, is a traditional French-style sausage. This pork sausage is made from humanely raised pork by Chef Daniel Monneaux, following a French traditional recipe. It is perfect to serve on a charcuterie board, in a French baguette sandwich and it will add flavor in a variety of dishes. French Garlic sausage is also a key ingredient to cassoulet recipe!
Fully cooked, ready to eat.
High-quality pork meat.
Recipe developed by Chef Daniel Monneaux, according to a French traditional recipe.
This dish is proudly made in New York by Bec Fin, exclusively from All Natural and carefully selected ingredients, like the one you would use at home. Bec Fin manufactures handmade award winning charcuterie and French and European dishes sold to the tri-state finest hotels, restaurants and select gourmet stores.
Pork, garlic, salt, sodium polyphosphate, white pepper, dextros, sodium nitrate, spices.
Item SKU: H55406
1 unit (16 oz)