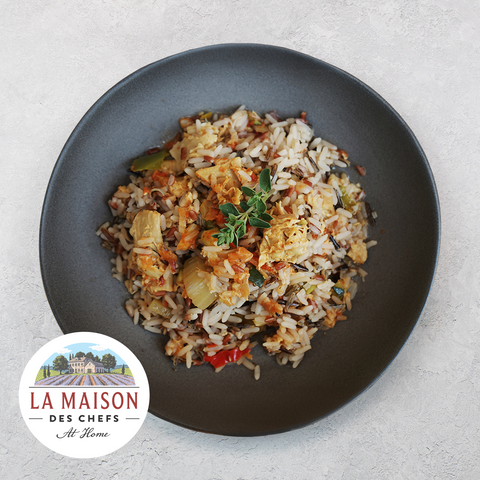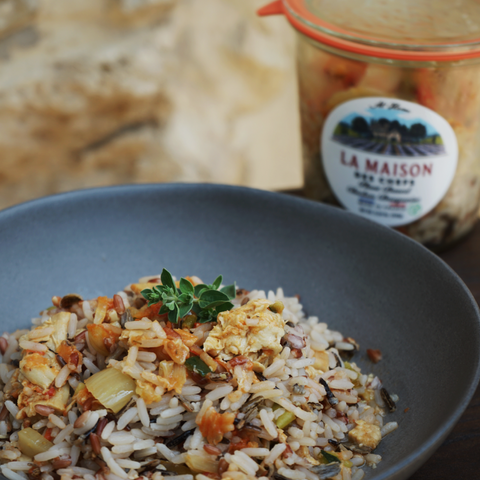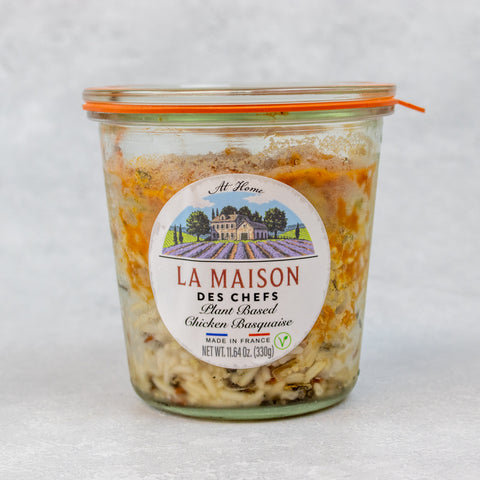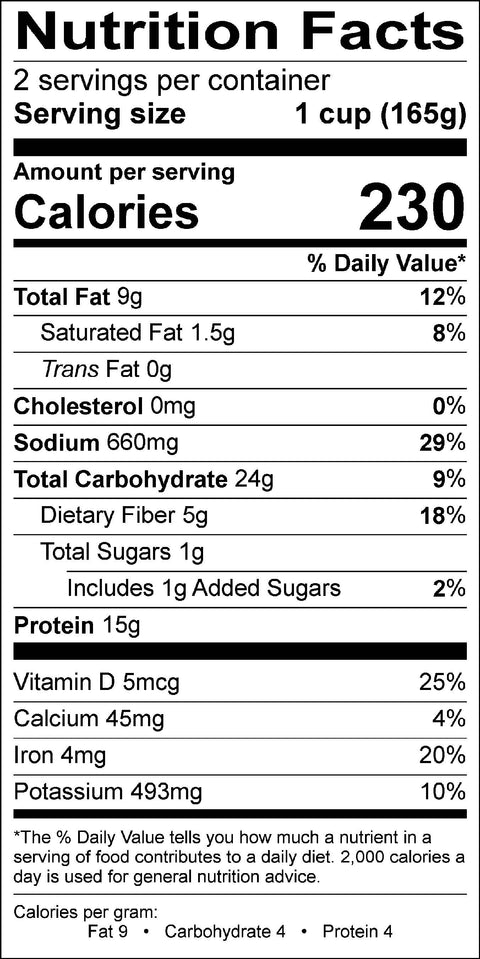 Plant-Based Chicken Basquaise
Now vegans and vegetarians can enjoy the darling of Basque Country! Red and green peppers honor the region's flag, blending with tomato, zucchini, and fennel for a most magnificent flavor. Ginger, pesto, pine nuts, and rosemary work their magic to add a bit of aromatic zest to strips of plant-based chicken. It all comes together in a savory tomato sauce.
Chef cooked and vacuum-sealed, NOT pasteurized or canned.
Small batch production ensures high quality.
Re-usable and/or recyclable glass jars. No plastic!
Simply warm up in microwave from frozen for 6 minutes, or thawed out for 2 and a half minutes.
A Story of Two Chefs
Master chefs Laurent Manrique and Olivier Dubreuil are lifelong friends with roots in Southwestern France. Encouraged by their families and clients – who always wanted a sample of their gourmet restaurant meals to take home – they developed a line of ready made heat-and-eat entrées evolving all the sensory nostalgia home. 
How It's Done
Each ingredient is prepared and cooked separately to ensure optimal flavor and preserve product integrity. The ingredients are placed in jars to complete the recipe. The glass jar is then vacuum-sealed and flash-frozen for optimal freshness. Seasonal and quality ingredients, no artificial ingredients, responsible sourcing from suppliers.
Ingredients: Rice, Plant-based Chicken, Water, Onion, Olive Oil, Vegetable Concentrate (Maltodextrin, Salt, Natural Vegetable Flavor), Roux (Wheat Flour, Palm Fat), Salt, Fennel, Pepper, Zucchini, Cayenne Pepper, Powdered Ginger, Red Pesto (Sunflower Oil, Aromatic Plants [Basil, Garlic, Oregano, Rosemary, Fennel], Concentrated Tomato Puree, Sal, Flavor Enhancer: Sodium Glutamate, Tomato Flakes, Sugar, Fully Hydrogenated Rapeseed Oil, Pine Nuts, Chili Puree [Chili, Water, Salt, Spirit Vinegar, Modified Starch], Onion, Paprika Extract, Antioxidant: Tocopherol-Rich Extract), Thyme, Garlic (Olive Oil, Garlic), Tomato Concentrate (Tomato, Salt).

Allergens: Contains Wheat and Tree Nuts (Pine Nuts).
Item SKU: H55656
11.64 oz Glass Jar