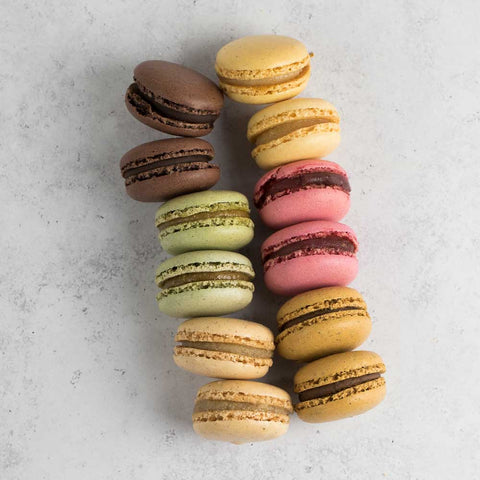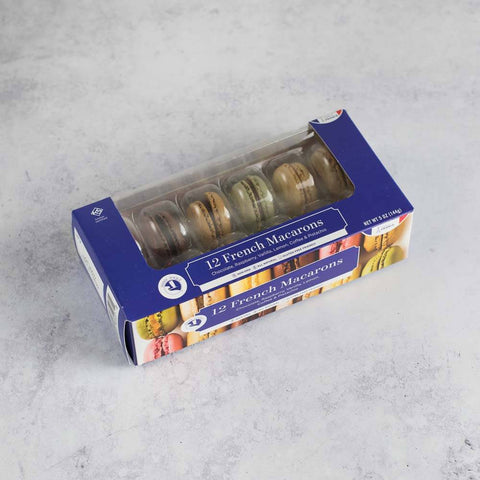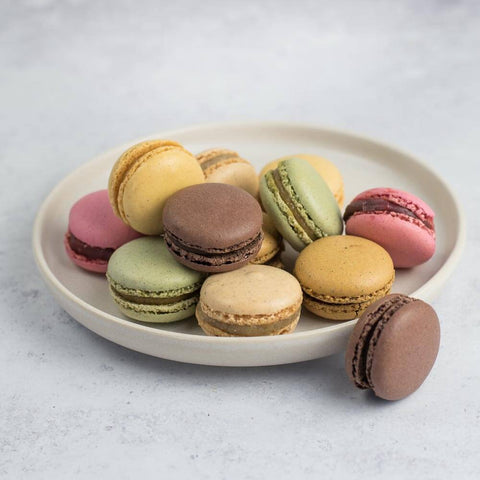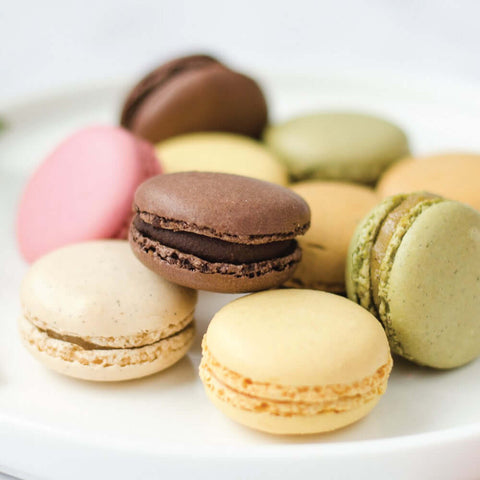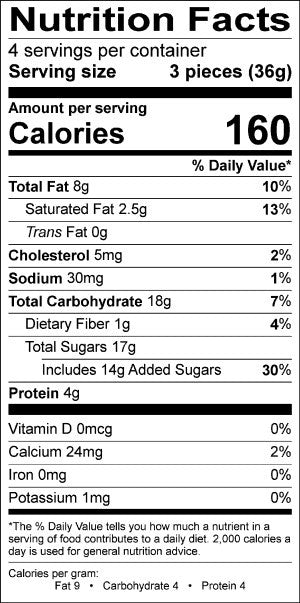 12 Classic French Macarons
Sweet and spongy with a cool, creamy center, our classic French macarons offer a splash of color before melting in your mouth. The 12-piece assortment tray features authentic French flavors such as chocolate, raspberry, vanilla, lemon, coffee, and pistachio.
SUGAR, ALMONDS 18%, ICING SUGAR, EGG WHITE, BUTTER, ALMOND PASTE (ALMONDS, SUGAR, WATER), MILK, CREAM, MILK CHOCOLATE (SUGAR, WHOLE MILK POWDER, COCOA BUTTER, COCOA MASS, EMULSIFIER: SOY LECITHIN, NATURAL VANILLA EXTRACT), DARK CHOCOLATE (COCOA MASS, SUGAR, COCOA BUTTER, NATURAL VANILLA EXTRACT), PISTACHIO PRALIN (PISTACHIO, SUGAR), GLUCOSE SYRUP, LEMON PUREE, RASPBERRIES CRUMBLED, INVERTED SUGAR SYRUP, WATER, PISTACHIO, YOLK EGG, COCOA POWDER, COFFEE, COFFEE PASTE (COFFEE, SUNFLOWER OIL), FAT-REDUCED COCOA POWDER, BAKER'S CUSTARD MIX (MODIFIED CORN STARCH, CORN STARCH), POTATO FLOUR, THICKENER: PECTIN, LIMONCELLO (ALCOHOL, WATER, LEMON PEEL, NATURAL FLAVOR), TAHITI VANILLA POWDER, SPIRULINA, BOURBON VANILLA POWDER, NATURAL RASPBERRY AND PISTACHIO FLAVORS, NATURAL COLOR: NATURAL BEET COLOR – CARAMEL – CURCUMIN. CONTAINS: TREE NUTS (ALMONDS, PISTACHIO), EGG, MILK, SOYBEANS. PRODUCED IN A FACILITY ALSO HANDLING WHEAT AND OTHER TREENUTS.
Item SKU: H63127
1 box (12 units)