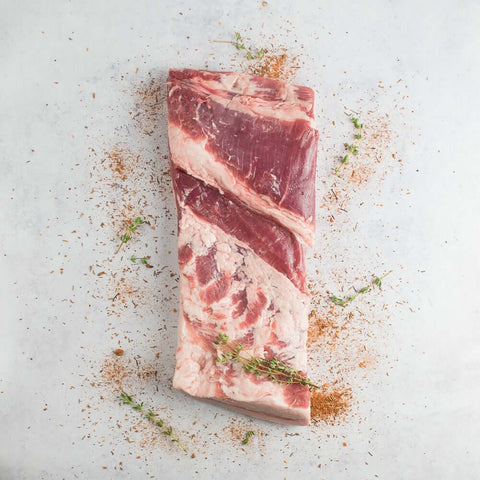 Iberico Pork Belly (Panceta)
Cooking methods:
It can be cooked in many different ways smoked, grilled, slow-cooked, and braised are the most common.
Our Iberico Pork Belly is a riched and flavorful cut of pork. This pork belly is the same cut as bacon but can be prepared in so many ways. Our chefs recommend slow roasting or braising until tender to create a wonderful dinner centered around our high-end pork.
Exceptionally tender and well-marbled style of pork.
Authentic Ibérico certified product according to Ibérico Quality Norm.
Pork raised in a small open-air farm and fed with natural cereal and legumes-based hay, following strict standards of humane animal husbandry.
These condition create the best, stress-free environment to ensure animal welfare, without requiring the use of antibiotics or hormones.
Production is based in Guijuelo, one of the most famous Ibérico pork regions in Spain with the highest quality standards.
Ingredients
IBERICO PORK
Item SKU: H55633
1 Unit (2.5lb-3lb)