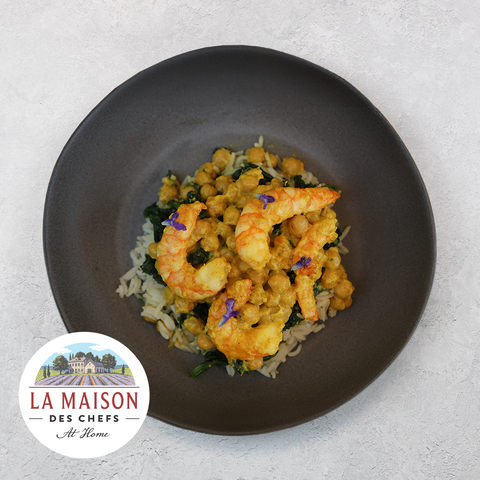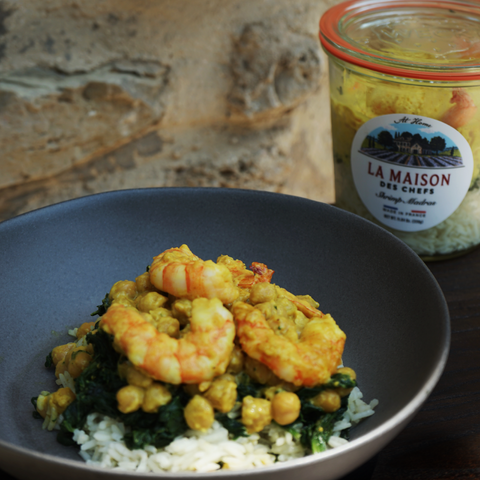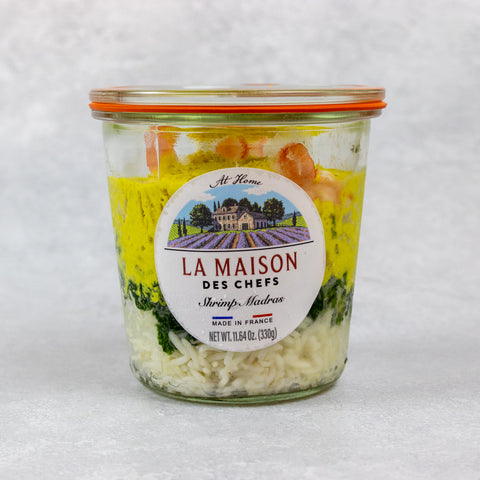 Shrimp Madras
A savory, uplifting meal with a bit of a kick! The delicate flavors of shrimp and coconut swim harmoniously together in this curry dish. Spinach, chickpea, and a dash of turmeric spice add equal parts color and taste. Not a spice person? Not to worry – each jar contains pre-portioned rice and cream, which help balance the cayenne pepper's minor fire.
Chef cooked and vacuum-sealed, NOT pasteurized or canned.
Small batch production ensures high quality.
Re-usable and/or recyclable glass jars. No plastic!
Simply warm up in microwave from frozen for 6 minutes, or thawed out for 2 and a half minutes.
A Story of Two Chefs
Master chefs Laurent Manrique and Olivier Dubreuil are lifelong friends with roots in Southwestern France. Encouraged by their families and clients – who always wanted a sample of their gourmet restaurant meals to take home – they developed a line of ready made heat-and-eat entrées evolving all the sensory nostalgia home. 
How It's Done
Each ingredient is prepared and cooked separately to ensure optimal flavor and preserve product integrity. The ingredients are placed in jars to complete the recipe. The glass jar is then vacuum-sealed and flash-frozen for optimal freshness. Seasonal and quality ingredients, no artificial ingredients, responsible sourcing from suppliers. 
Ingredients: Shrimp, Cream (Pasteurized Milk, Emulsifier: Lactic Acid, Esters of Mono and Diglycerides, Stabilizer: Carageenan), Spinach, Chickpea, Coconut Milk (Water, Coconut Extract, Carboxymethylcellulose), Rice, Water, Roux (Wheat Flour, Palm Fat), Salt, Vegetable Concentrate (Maltodextrin, Salt, Natural Vegetable Flavor), Olive Oil and Sunflower Oil, Onion, Curry, Turmeric, Cayenne Pepper.

Allergens: Contains Crustacean, Shellfish (Shrimp), Milk, Wheat, and Tree Nuts (Coconut).
Item SKU: H55660
11.64 oz Glass Jar