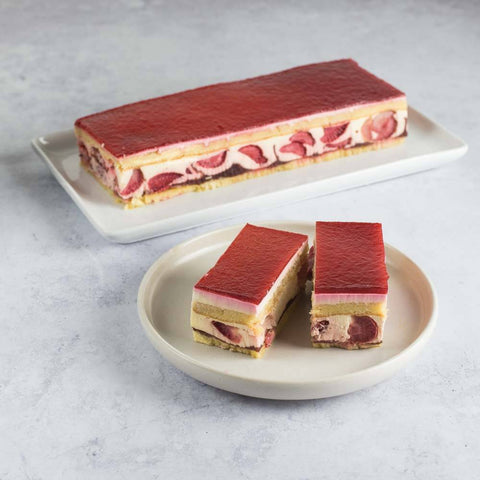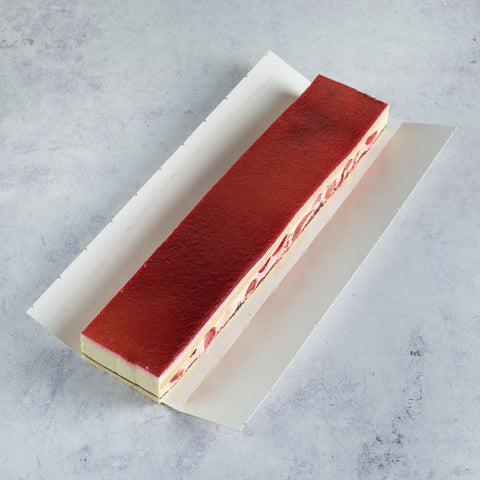 Strawberry Strip Cake
Thaw and serve.
Our Strawberry Strip Cake is a light and refreshing dessert cake with a decadent vanilla mousse and whole strawberries. Slice, thaw, and serve.
CREAM, SUGARED STRAWBERRY 22% (STRAWBERRY, SUGAR), WATER, SUGAR, STRAWBERRY PUREE 9%, LIQUID WHOLE EGG, WHEAT FLOUR, POWDERED ALMONDS 1%, LIQUID EGG YOLK, GLUCOSE-FRUCTOSE SYRUP, PORK GELATIN, RICE STARCH, GELLING AGENT: PECTINS, SKIMMED MILK POWDER, LACTOSE AND MILK PROTEINS, NATURAL STRAWBERRY FLAVOR, VANILLA EXTRACT, COLOURS (BEETROOT RED, PAPRIKA EXTRACT), GROUND DEPLETED VANILLA PODS, ACID: CITRIC ACID, EMULSIFIER: MONO- AND DIGLYCERIDES OF FATTY ACIDS.
Item SKU: H62204
1 cake (33 OZ)