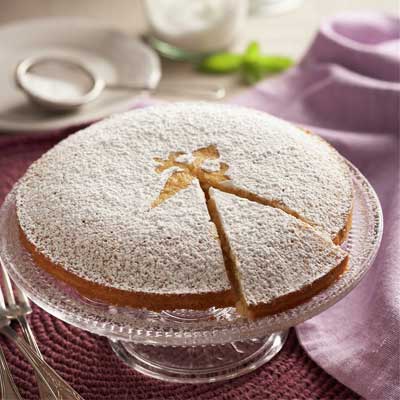 Tarte de Santiago - Spanish Almond Tart
The Tarta de Santiago is one of the most popular Spanish desserts, dating back to medieval times. It is named in honor of the apostle Saint James, the patron saint of Spain, and popularized by the pilgrims that still today walk the Camino de Santiago (Santiago's Way) to the city of Santiago de Compostela, where the apostle is buried.
This rich and thick torte makes a good accompaniment to a cup of coffee, some sweet liquor like Muscat, or with a nice scoop of your favorite ice cream.
Ingredients: Eggs, Sugar, Ground Almonds, Vegetable Oil Spread (palm Fat, Water, Sunflower Oil, Emulsifier (Mono and Diglycerides), Salt, Citric Acid, Preservative (Orbic Acid), Artificial Flavor, Beta-Carotene Color), Powdered Sugar with Vegetable Fat (Sugar, Coconut Fat Preparation (Coconut Fat, Glucose Syrup, Milk Proteins, Stabilizer (Sodium Tripolyphosphate), Anti-Caking Agent (Silicon Dioxide), Granulated Almonds, Wheat Flour, Natural Flavor, Preservative (Orbic Acid) Allergens: Contains Wheat, Tree Nuts (Almonds, Coconut), Egg, and Milk. May Contain: Tree Nuts (Hazelnuts, Walnuts) and Soy.
Item SKU: H62430
1 Cake / 21 oz