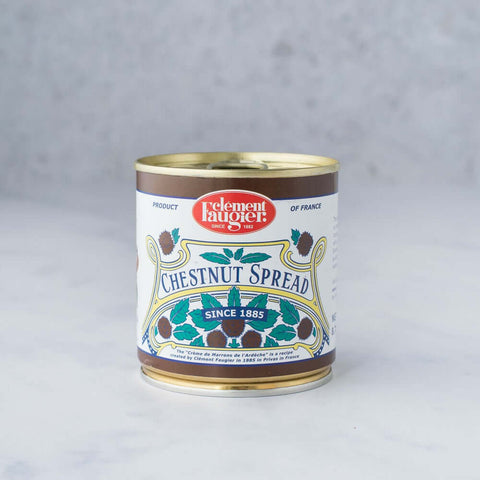 Clément Faugier Chestnut Spread
The recipe of this Chestnut Spread has been created by Clément Faugier in 1885 in Ardèche, France, a region known for its legendary chestnuts. It is made with all natural ingredients: chestnuts, sugar, glazed chestnuts, glucose syrup, water and natural vanilla essence.
Imported from France
Authentic French recipe since 1885
Made with fresh roasted chestnuts and candied chestnuts from France
Enjoy in a plain yogurt or with ice cream, as a delicious filling in French crepes or use for baking.

Clément Faugier "Crème de Marrons" is a French classic made of chestnuts, confectionery syrup, sugar and vanilla. It's an irresistible dessert on its own, but it can be used for baking or as a topping on yogurt, ice cream, toast or even crêpes!
Chestnuts (50%), Sugar, Candied Marrons, Glucose Syrup, Water, Vanilla Natural Essence. Gluten Free.
Item SKU: H26302
1 unit (8.8oz)