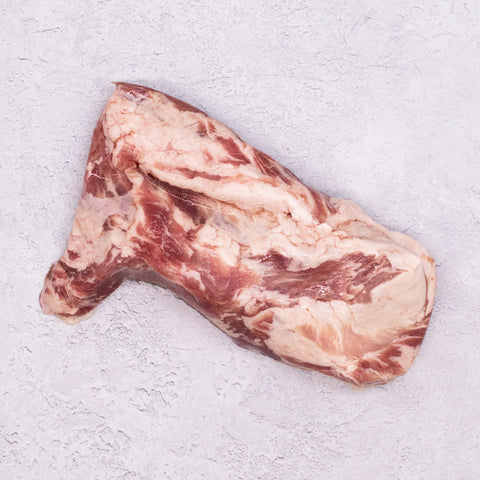 Ibérico Pork Pluma - Shoulder Loin
A native breed of the Iberian Peninsula, the Iberian pig is a rustic animal with a unique metabolism that gives the meat a distinctive veining, texture, and juiciness. These animals have a high level of oleic acid in their fat, which helps reduce LDL or bad cholesterol in blood and increases levels of cardioprotective cholesterol.

Authentic Ibérico certified product according to Ibérico Quality Norm.
Pork raised in a small open-air farm and fed with natural cereal and legumes-based hay, following strict standards of humane animal husbandry.
These condition create the best, stress-free environment to ensure animal welfare, without requiring the use of antibiotics or hormones.
Production is based in Guijuelo, one of the most famous Ibérico pork regions in Spain with the highest quality standards.
The shoulder loin can be prepared either grilled, sautéed, braised, or stewed. It can be simply spiced with salt and pepper in order to highlight it's stunning flavor.
Ingredients: Iberico Pork Allergens: Pig Meat
Item SKU: H55661
Approx 1 lb