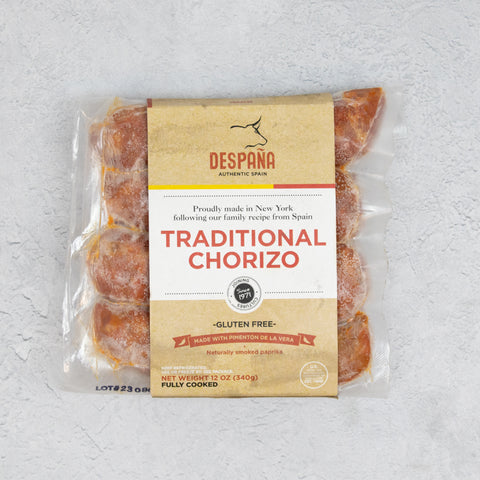 Traditional Chorizo Sausage
100% natural chorizo without additives or preservatives. These sausages cook up beautifully, with a chewy and soft texture. No rock-like chorizo here!
We use a generation-old family recipe to retain a classic, traditional chorizo taste. These sausages arrive perfectly cured and ready to impart rich flavor to your stews, lentils, and beans. You can use this versatile sausage in a wide variety of recipes.
Ingredients: Pork, Water, Paprika, Nonfat Dry Milk, Salt, Wine, Sugar, Garlic Powder, Spices, Sodium Nitrite. This item is Gluten Free. Naturally smoked with paprika and made with pimenton de la vera.
Item SKU: H55447
4 Units / 3 oz each