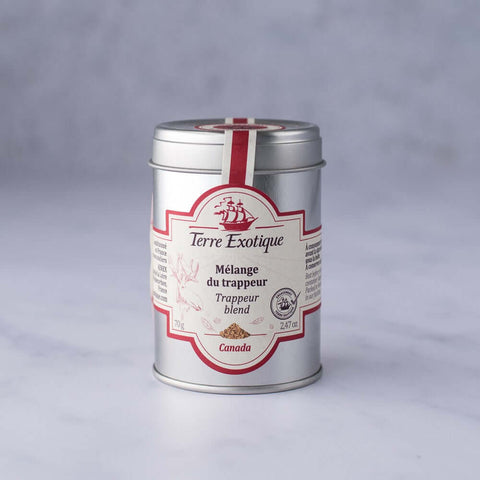 Trapper's Mix
This sweet'n'salty Quebec mix is ideal with salmon, grilled meat and soups.
Completely natural, without flavor enhancers, Terre Exotique's Trapper's Mix is made from salt and crystals of maple sugar obtained by evaporating maple syrup at 123°C. Devilishly delicious, it can be used on virtually anything, with all your savoury dishes, before or after cooking. Made with: onion, garlic, red pepper, pepper, coriander, and oil.


Did you know:


This mix was originally an accident! A trapper from Northern Canada spilled his salt cellar into his pot of maple syrup. As he didn't want to waste his precious sugar, he used it to season his dried bison meat. That's how this typical Quebec delight was created!
Sugar, coriander (France), dehydrated vegetables (garlic, onion, red, bell pepper), sea salt, black pepper, maple sugar, maple natural, essence, vegetal oil (canola).
Allergen free.
Item SKU: H17032
1 jar of 2.47oz