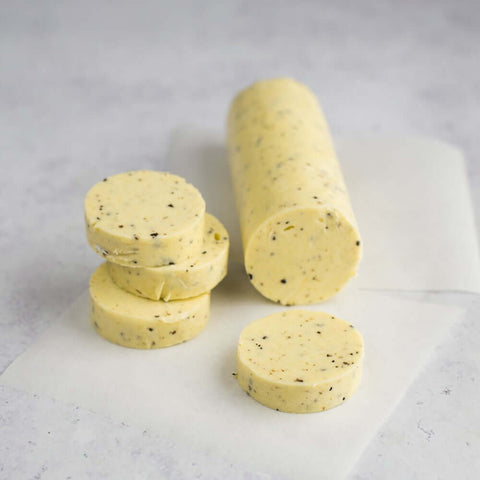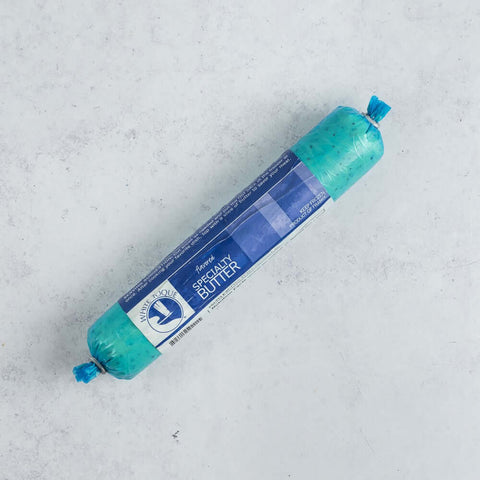 Black Truffle Butter Roll
This butter makes everything - from pasta and eggs to risotto and mashed potatoes - better. Try a dollop on a seared New York strip steak, or add a few pats under chicken and turkey skin before roasting for a luxurious meal! Once softened, serve with a basket of fresh bread for a satisfying pre-dinner snack! Our truffle butter roll is regularly featuring in pasta and potato dishes at fine dining locales.
Made in France, with 5% black truffle and juice;
Can be portioned frozen as desired to fit your needs;
All natural and non-GMO.
Portion the desired amount while frozen to fit your needs. Keep frozen until ready to use. Do not thaw and refreeze.

Shelf life: 12 months. 10 days thawed and unopened in the refrigerator and 72 hours thawed and opened in the refrigerator.

Suggestions of use: Add White Toque's Truffle Butter to practically anything, from toast, to pasta, risotto and mashed potatoes, and it will transform it from average to simply extraordinary. 
BUTTER (95.5%), TRUFFLE PIECES (3%: TUBER BRUMALE, WATER, SALT), SALT, FLAVOR (MUSTARD), BLACK PEPPER.

Contains: Mustard, Milk.
Item SKU: H59201
1 roll (8.8oz)