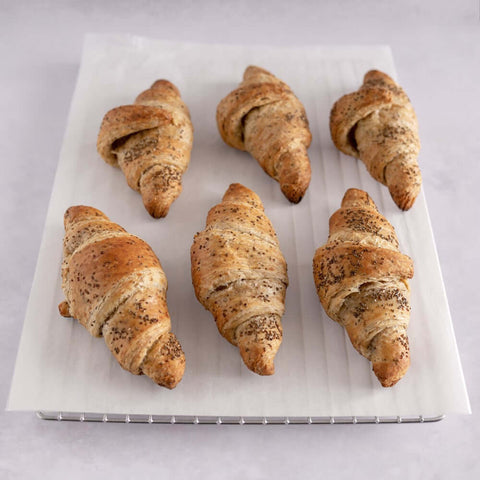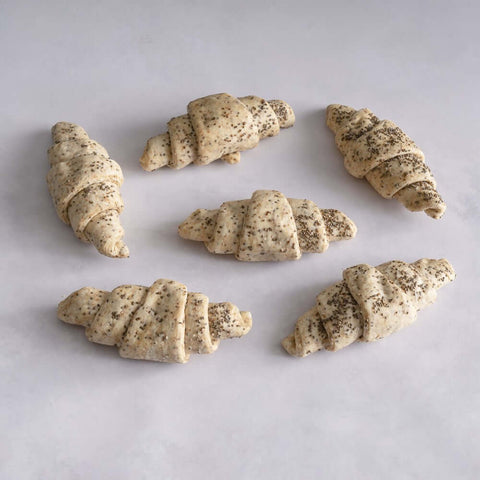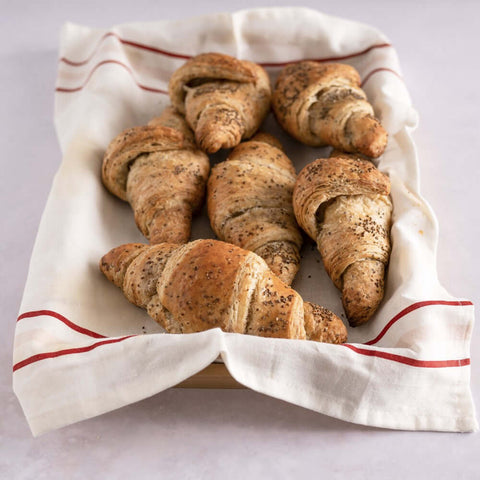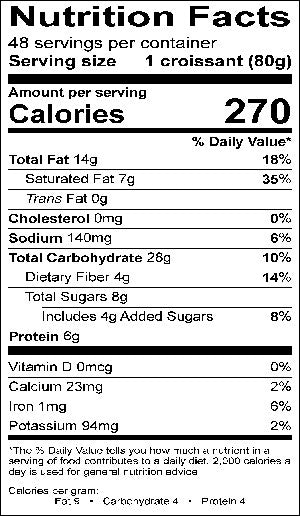 Vegan Chia Seed Croissants
We've harnessed the magic of chia seeds to create the perfect vegan croissant! Chia replaces egg and butter as the binding agent, and a sprinkle of roasted seeds on top adds a satisfying crunch! One pack includes six ready-to-bake croissants. No defrosting necessary – pastries need just a few minutes in the oven to blossom into light and fluffy perfection.
How to Prepare:
Evenly space the frozen Vegan Chia Seed Croissants on baking sheet lined with parchment paper.

Let them thaw for 10 to 20 minutes at room temperature.

Preheat oven to 325ºF (165ºC). Bake on middle rake for 15 to 18 minutes until golden.
Ingredients: DOUGH: WHEAT FLOUR (TYPE 00 AND TYPE 2), VEGETABLE FAT (VEGETABLE OILS AND FATS: SUNFLOWER, SAL, SHEA, WATER, SALT, EMULSIFIERS: MONO AND DIGLYCERIDES OF FATTY ACIDS (SUNFLOWER), CONCENTRATED LEMON JUICE, ACIDITY REGULATOR: CIDRIC ACID, COLORING: BETA-CAROTENE; FLAVORINGS), WATER, SUGAR, FRUCTOSE, CHIA SEEDS (2.3%), NATURAL YEAST (00-TYPE SOFT WHEAT FLOUR, WATER), YEAST, BRAN OF WHEAT, SALT, MALTED FLOUR (WHEAT, BARLEY), WHEAT GLUTEN, NATURAL FLAVOR, COLOR: BETA-CAROTENE. DECORATION: CHIA SEEDS ON THE SURFACE (2.5%), GLOSSING SYRUP (WATER, VEGETABLE PROTEINS (PEAS, POTATOES AND/OR BROAD BEANS), SUNFLOWER OIL, DEXTROSE, MALTODEXTRIN, STARCH).
Allergens: CONTAINS: WHEAT, BARLEY & SOYBEANS. PRODUCED IN A FACILITY THAT PROCESSES NUTS.
Item SKU: H58211
6 units (2.8 oz each)